On November 5, 2009, the rain held off in order for affordable housing advocates, elected officials and neighbors to come together to celebrate HCA's completion of the rehab and construction project on Forest and Peirce Streets in Arlington.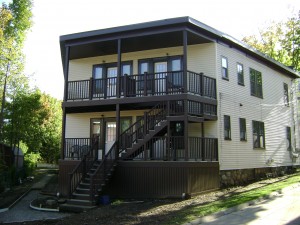 Thanks to generous investments from the US Dept. of Housing and Urban Development (HUD) via the Town of Arlington and North Suburban HOME Consortium, Massachusetts Housing Partnership and Cambridge Savings Bank, the Forest-Peirce Project creates a total of ten new affordable housing units in Arlington. Putting the focus on long-term solutions such as purchasing and rehabbing units enables HCA to increase the amount of permanent affordable rental stock in Arlington. Like many communities in the Commonwealth, stable, affordable, housing is a critical need in Arlington.
HCA purchased the two properties on adjacent lots, which helped reduce the costs of rehabilitation, future upkeep and management. Award winning design and building firm Feinmann, Inc. designed and renovated the units, handling construction and project management. Feinmann also generously donated a portion of their time to the project.
HCA achieved its goal of converting these units (which were in terrible disrepair) into bright, modern, comfortable homes. The buildings are convenient to public transportation and each comes with off-street parking. Of the ten units, five have two-bedrooms, making them suitable for families with children. Rents are at least 30% lower than the market rate. The completion of the Forest-Peirce Project is a positive step toward increasing the amount of permanent and well-maintained affordable housing in Arlington.